By Megan Houston and Rachel Swindle
As Omicron raged over the holiday season, thousands of people were forced to wait hours for COVID-19 PCR tests or scour pharmacy shelves for sold-out at-home tests that often cost over $10 each. In response, the Biden Administration announced a new policy that requires insurers to cover and waive any cost-sharing for over-the-counter COVID-19 tests. The requirement, which took effect on January 15, allows consumers enrolled in private health insurance plans to either purchase an over-the-counter COVID-19 test and file a claim for reimbursement or access a test without paying upfront by going to an in-network pharmacy throughout the duration of the public health emergency.
This policy was issued under the authority of the Families First Coronavirus Relief Act and the Coronavirus Aid, Relief, and Economic Security Act, which required insurers to cover COVID-19 tests without cost-sharing. At the time, no over-the-counter, at-home tests were available, but the Trump administration interpreted the mandate broadly to cover all medically necessary COVID-19 tests, although plans were allowed to exclude coverage of tests for workplace safety and public health surveillance. The Biden administration subsequently clarified that insurers must cover the tests whether or not the recipient has symptoms of COVID-19, although their initial guidance continued to require a health professional's determination that the test is medically necessary.
Under the new, January 10th guidance (updated on February 4), insurers are required to cover up to eight over-the-counter at-home tests per month for each plan member, without the need to be evaluated by a health professional. In order to prevent fraud and abuse, insurers may require members to attest that the purchase of a test was for an enrollee's "personal" use and is not for resale. Plans are not required to provide coverage when a test is for employment purposes.
The January 10th guidance requires plans to provide reimbursement no matter where a member purchases a test. However, insurers that provide a "direct coverage" option, which specifies where consumers can go to get tests at in-network pharmacies with no upfront payment required, are allowed to limit reimbursement for tests purchased from nonparticipating retailers at $12 per test.
Insurers are taking a variety of approaches to this new coverage requirement, so the process for consumers—and accessibility of tests—varies depending on their insurance company. CHIR researchers analyzed coverage policies for at-home COVID-19 tests from 51 health plans. A majority of these – 29 – have established a direct coverage option for their members. But for those enrollees that purchase tests and then seek reimbursement, many will find that their insurance company has imposed more restrictions on testing coverage than the new federal rules would allow. Others are complying with the federal standards but have made the process onerous for the consumer. Below we summarize the very wide range of insurance company approaches to the reimbursement of over-the-counter COVID-19 tests.
Challenging Reimbursement Processes: Are We Really Faxing in 2022?
Some insurers report they are in the process of implementing a direct coverage option, while others may not have the infrastructure or network of pharmacies in order to do so. For those policyholders who must file, the claims process is proving to be cumbersome. Out of 51 payers, only 21 provide an online option for enrollees to submit a request for reimbursement. This will require many people to print and either mail or fax completed claim forms. Some insurers, like Blue Shield of California, require you to submit a separate claim for each individual test. If you purchase five tests, you have to submit five claim forms with five receipts.
In addition to the lack of online reimbursement, insurers have imposed other barriers to filing a claim. One of the most burdensome requirements we identified among several insurers, including Excellus and CareFirst, instructs members to physically cut out the barcode/UPC code from the box and mail it in along with the receipt and the reimbursement form. All of these instructions come with important caveats that insurers reserve the right to deny claims where instructions are not followed correctly. Claim forms can also be confusing, especially when plans are relying on a generic form that is not specific to at-home COVID-19 tests. There are questions, such as asking for a national provider identifier number, that do not apply for a test purchased from a retail pharmacy. 
Confusing Coverage Limitations
According to federal guidelines, insurers are not required to provide coverage of at-home COVID-19 tests for employment purposes or public health "surveillance." However, nothing in the federal guidance allows insurers to deny coverage if people use tests to check their personal health in order for a child to return to school, to attend an event, travel, or visit with family. And insurers must cover the test whether the individual is experiencing symptoms or not. Yet our analysis found 16 insurers impose restrictions that exceed the federal guidelines. These coverage restrictions mostly come in the form of requiring plan members to attest to the fact that the test was not used for any of these purposes. CHIR has summarized the restrictions that payers have put in place that exceed what is allowed by the federal standards (see Table).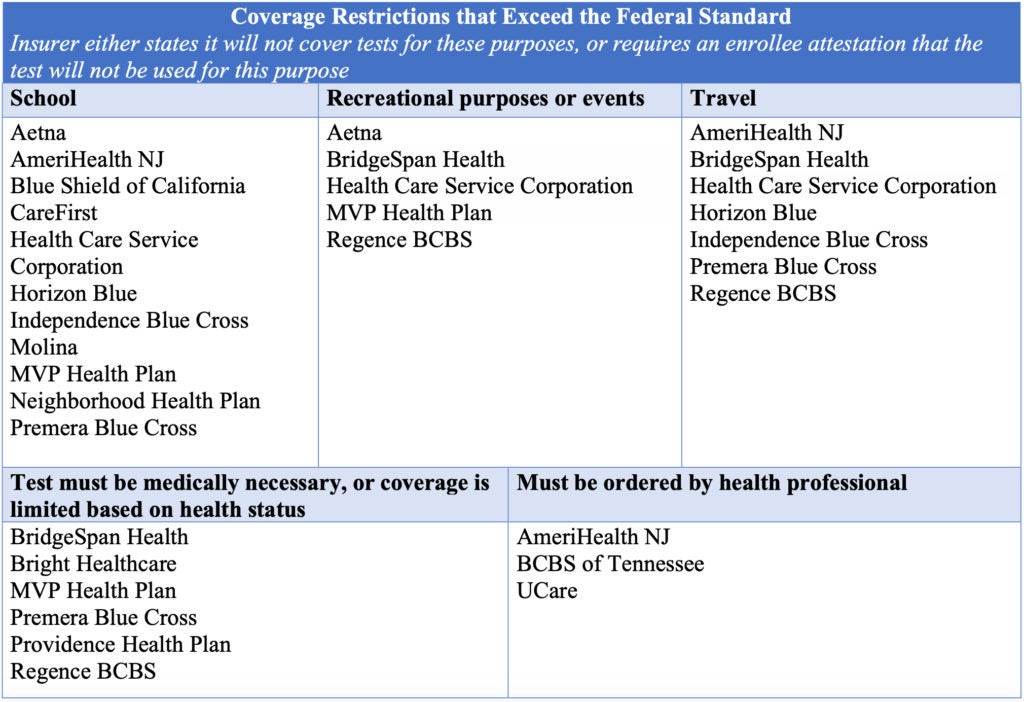 Source: CHIR analysis of 51 insurer websites that provide private health coverage for individuals, families, and employer groups. List is not exhaustive and is up to date as of February 4, 2022. You can view a list of each insurer's specific restrictions here.
Many plans include an explicit prohibition on coverage for tests under any circumstance that is not a known exposure or active COVID-19 symptom. Conversely, MVP Health Plan explicitly does not cover COVID-19 tests "solely to assess health status." Federal guidance also requires plans to provide coverage for over-the-counter tests without requiring a prescription or recommendation from a health care provider. However, this has not stopped several payers from imposing this requirement (see Table).
Meanwhile, some forms also contain explicit warnings about insurance fraud for anyone who submits inaccurate information on their reimbursement request. This, combined with confusion about what exactly they are being asked to attest to, could have a chilling effect on many consumers' willingness to submit claims.
Confusing and Inconsistent, But Better than Nothing?
Insurers are implementing the new coverage requirement for at-home COVID-19 tests in a variety of ways, with a number of areas for improvement. But it is just one of the approaches the Biden Administration is taking to increase access to COVID-19 testing. The supply of tests to purchase at pharmacies is still a challenge in many places—a few health plans included link to this HHS resource in their guidance to members to search for community-based testing, signaling that private insurance alone cannot solve the problem of access to COVID-19 tests. While CMS has announced a Medicare reimbursement policy for at-home tests, those who are enrolled in Medicaid continue to face coverage restrictions. The wide variety of approaches and rules that individuals have to navigate is another reminder of the downsides to such a fragmented health care system, especially when navigating a pandemic. But the new policy does provide another avenue to reduce cost barriers to testing that did not exist before.