Health insurers have weathered the pandemic ups and downs better than many industries. In their fourth quarter earnings reports, large for-profit insurers reported strong financial performance in 2021, thanks in large part to revenue from Medicare and Medicaid. For most major insurers, their profits in 2021 exceeded those in 2020, which was widely seen as an unusually profitable year, thanks to the depressed utilization of preventive and elective health care services during the height of the COVID-19 pandemic (see table). While the intended audience for these financial reports is investors and financial analysts, the information can also provide insights into how public policies and programs are affecting health insurance markets.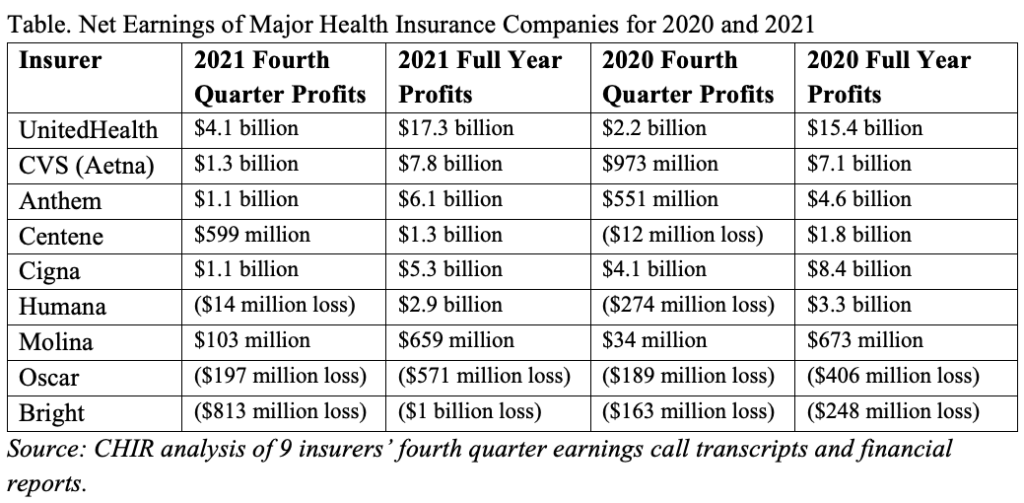 Public Programs Drive Insurer Profits
Insurers Fight for Market Share in Medicare Advantage
Medicare Advantage enrollment has experienced significant growth; enrollment in the program has more than doubled in the last ten years. Health plans are taking notice of the business opportunity. On its earnings call, UnitedHealth identified the Medicare Advantage program as a key source of their successful financial performance in 2021. However, Humana reported a loss in its fourth quarter, after reducing their expectations for Medicare Advantage membership in 2022. Humana executives largely attributed the loss to unexpected COVID-19 costs. They remain undaunted, however, and announced plans to invest $1 billion into expanding its Medicare Advantage business. Competition has increased significantly in this business between large payers and small "insuretechs" that market consumer-friendly technology and user experience, such as Oscar Health—which has recently expanded their Medicare Advantage footprint—and Bright Healthcare.
Bottom Lines Benefit from Continuous Coverage in Medicaid
Another major factor in the robust earnings for 2021 was the continuous enrollment requirement for Medicaid during the ongoing COVID-19 public health emergency. Throughout most of 2020 and all of 2021, Medicaid eligibility redeterminations have been on hold. As enrollment in the program has swelled, so too have states' payments to Medicaid managed care plans. Centene reported nearly 1.4 million new enrollees in their Medicaid plans, and Molina saw their Medicaid revenue grow by 43 percent.
 Insurers Consider Plans for Medicaid When Public Health Emergency Ends
The Urban Institute estimates that 15 million or more Medicaid enrollees could be pushed out of the program once the public health emergency expires. Some insurers are closely monitoring this and many mentioned their intention to transition as many as possible of these members to their marketplace plans, or to their Medicare Advantage products, if appropriate. While executives did not mention a specific outreach strategy, UnitedHealth told investors on its earnings call they plan to "pick up our fair share," of individuals losing Medicaid, and Anthem described similar expectations. Bright Healthcare on the other hand reported challenges planning for this coverage transition while the end date of the public health emergency is still unknown.
Mixed Reviews on Marketplace Enrollment, But Gains from Non-Insurance Business
COVID-19 Special Enrollment Period Brought Enrollees, but Was Not a Major Source of Profits
Growing marketplace enrollment did not appear to have a consistent impact on insurers' Q4 earnings. Molina announced during its earnings call that they plan to reduce their marketplace enrollment after enrolling sicker-than-expected individuals during 2021's COVID-19 special enrollment period (SEP). Molina reported that marketplace enrollment in their plans more than doubled in 2021, from 320,000 to 728,000. Bright Healthcare identified similar struggles with their SEP population. During its earnings call they reported higher acute costs for those that enrolled during the COVID-19 SEP, partly blaming them for their $813 million loss in Q4.
Oscar Health also had a significant enrollment boost in the individual market, but did not identify particular challenges with high medical costs. Those enrollment gains have not yet translated into profitability for the company, which may help explain their leap into Medicare Advantage. When asked on their earnings call about what might happen to membership if the enhanced premium subsidies expire, Oscar executives said they believed it to be very unlikely that Congress let that happen. Other insurers including Centene and Anthem reported that the marketplace enrollment growth had helped boost their bottom lines.
Non-Insurance Business Boosts Profits 
UnitedHealth and CVS had the highest earnings among insurers in 2021, but they also generate significant revenue from non-insurance business like UnitedHealth's health services unit Optum and CVS's pharmacy benefit manager (PBM) and retail business. Similarly, pharmacy services subsidiary Evernorth was Cigna's biggest source of revenue.
Despite Pandemic and Uncertainty, Insurers Continue to be Profitable
Although the health insurance industry has generally opposed government coverage programs such as the public option, they appear to be thriving under government-run programs like Medicare and Medicaid. These two programs were the biggest source of revenue growth for insurers in 2021. As the U.S. economy navigates its way out of the pandemic with uneven results, the profitability of the health insurance industry stands out, thanks in large part to the largesse of federal and state taxpayers.